Eurobot 2011 : Xachikoma
By Xevel on Tuesday, March 13 2012, 12:05 - Permalink
Theme : Chess'Up!
The theme is only very slightly related to the game of chess like we know it: here, the game is not turn base anymore, and the robot can move the elements all around the table at will. In fact, beside the obvious grid pattern, only the name of the elements remains (pawn, king, queen) .
Scoring is done by putting game elements on squares of our color. Additional points can be scored by stacking a figure on one or two pawns, or putting game elements on "bonus" squares. Finally, an interesting move can earn a lot of points: it's called the "funny configuration" and it's performed by taking a pawn, bringing it back to the starting area, and _climbing_ onto it at the end of the match :D .
The Robot: Xachikoma
Technical Poster (printed in A1 and displayed in the team's pit during the competition):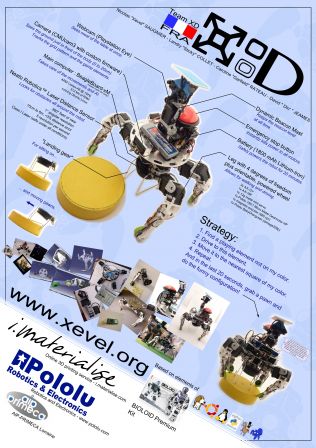 Competition(s) and results
French Cup:
Creativity Award winner (again)! And selected for participating to the Eurobot Finals!
Rank: who cares? xD (but in fact it's 119/140)
We had a lot of problem to get this working, and some crucial piece of software have been written on location, after _multiple dozen_ hours without sleep. We finally got the robot approved at the last minute (we were precisely the last team approved), and could participate to the last 3 rounds.
1 defeat, 2 draws, but we had fun ;)
Eurobot finals, in Astrakhan, Russia:
Design Award winner!
Rank: See here for the details of the matches :)
And for this, the head referee personally thanked us for making such a cool robot xD http://www.youtube.com/watch?v=d6KM5RNmMbQ
After the competition
The life of this project did not end with the competition this time: Xachikoma is still actively in development as of March 2012.
Tshirt