Xachikoma @ Innorobo
By Xevel on Wednesday, April 6 2011, 17:01 - Xachikoma - Permalink
Two weeks ago, the first Innorobo exhibition was held in Lyon, FR, and Xachikoma made a small apparition.
Here it is, just chillin' with his new friend ;)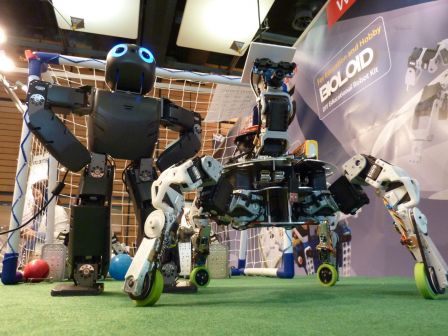 I met and talked to plenty of wonderful people, including people from Robotis, INRIA Flowers (the guys doing the wonderful humanoid robot Acroban), Gostai, Wany robotics, ECCEROBOT (incredible life-sized compliant humanoid!), Robotsavvy, Ro-botica and many many more :). I also had the opportunity to stay at the Robotis booth Wednesday and Friday with my robot, and to meet volunteers from the Planete-sciences / Eurobot organization team.
Wednesday, after the exhibition closed, I was invited to the first ever DARwIn-OP Tutorial for Partners along people from Robopolis, Roboshop, Ro-botica, Robosavvy and other European robot distributors. We had one DARwIn-OP for three people to play with, and we could try our hands at using some of the stock software applications, like configuring the color tracking, modifying a motion sequence, or re-flashing the servo controller. Very interesting and we had some great fun. At the end of the workshop, I even could disassemble the arm of our DARwIn-OP :). A BIG thank you to each member of the organizing team!